Elephant in the room: DC is a city of overachievers.
I guess I'm not surprised. We live in one of the most (over)educated, politically-charged cities in the world. Everyone is constantly sizing each other up. I've heard DC locals compete over having the longest commute or the worst landlord, like it's a badge of honor.
To state the obvious, this is massively unhealthy. Two years ago, DC landed the #1 spot on Movoto's list of the Most Stressed Out Cities in America – beating New York, Philly, Chicago, and Los Angeles. The scores were calculated based on factors like hours worked, cost of living, % of income spent on rent, and commute. Turns out DC is one giant, hypertensive blob.
Our overachieving local culture makes it easy to get into the routine of 'head-down, work work work, the weekend is the only light at the end of this bleak tunnel,' etc.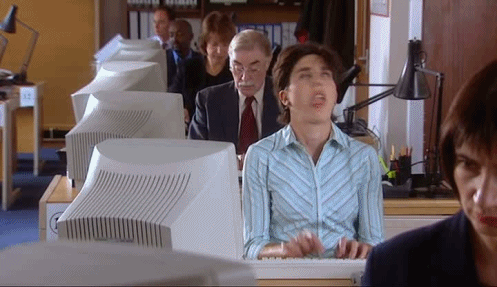 But is this really sustainable? (Rhetorical question – it isn't.) We need to reassess our priorities and stop shoving "general well-being" to the bottom of our to-do lists.
I have fallen into this trap myself. In addition to my full-time job, I'm also finishing up two years of grad school, attending 8-hour Saturday classes, preparing for comprehensive exams, doing Pilates 6 days a week, and applying to jobs (see what I did there? I just tried to out-misery you). As I've watched my calendar fill up for the next 4 months, I realized I couldn't keep relying on 48 measly hours every weekend to be the only thing I look forward to.
If you've read my post on doing a DC Staycation, you know how much I value "treat yourself" time. But weekend getaways are not (and should not) be the only way to keep your blood pressure down.
Make a list of the things you like to do on weekends. My list looks something like this:
Go to the movies (especially at one of the Landmark independent theaters)
Choose a complicated recipe to make out of an old cookbook
Drink at home
Drink at a bar
Drink at a really nice bar
Go for a long walk in a new neighborhood
As you can tell, I'm easily entertained.
The next step is to start making time for these things during the week.
Yeah, I know, you're busy. Clearly you haven't heard me yet. YOU NEED TO MAKE TIME FOR YOURSELF.
Start small. It just takes a little planning.  Tired of cooking the same boring meals over and over? Hit up Glen's Garden Market once a month to buy a nice cut of meat and local seasonal veggies for a special meal (while simultaneously avoiding the sadistic check-out lines at Whole Foods). Sick of feeling like a couch potato after work? In a few weeks, the clocks will turn ahead, the sun will stay out longer, and the conditions will be prime for an after-dinner walk through nearby neighborhoods. How else are you going to stumble across record stores, book stores and little coffee shops? (And for the love of God please do not say Yelp. You're better than Yelp.)
Last week, I took my own advice and made a conscious decision to do something fun on a Tuesday. There's certainly something to be said for a good dive bar, but when that $4 whiskey coke and grease-smudged jukebox just isn't cutting it, it can be fun to go full-throttle in the opposite direction.
At 9:00 PM last Tuesday, after a long day's work, a 50-minute Blogilates workout, dinner, and two hours of homework, I slammed my computer shut. I nodded to my fiancé, who turned off the TV. I put on my favorite black dress, an absurd amount of eye makeup, dark matte lipstick and navy suede boots. He put on his charcoal-toned sport coat and a pressed shirt. I pulled my credit card and ID out of my tattered shoulder bag and slipped them into a sleek black clutch. Then we headed out. Felt pretty fly.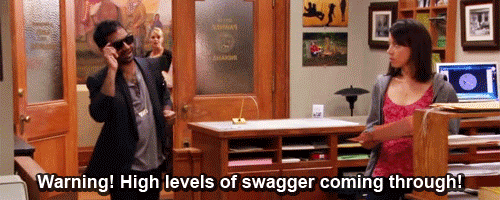 If you're in the mood to class it up (and I was), Off The Record is the answer. The bar is nestled inside the historic Hay Adams Hotel, just a few steps away from the White House gates. It is only accessible down a carpeted staircase via the extravagant hotel lobby, and the rose red interior exudes a distinct air of secrecy and luxury. The cocktails are expertly crafted, and since this was 9 PM on a Tuesday and I wasn't budgeting for a long night of drinking, I didn't mind throwing down $17 for a Bulleit Rye Manhattan. After two hours of being cloaked in dim light, bourbon and scotch, we paid the tab, grabbed an Uber home, made a cup of tea, and were happily asleep by 11:15 PM. No workout sacrificed; no homework left undone. We made this time, this little 2 hour window, because it's important to deviate from the norm.
You may be surprised at how much of a difference it makes to have weekday plans. It takes the pressure off of being uber-social during the weekend. It gives you something tangible to look forward to during those first few painful weekday mornings. Since I so often forget it myself, I wanted to take this time to remind you to look out for yourself. Not financially, economically or romantically, but fundamentally; look out for your own well-being. I can't think of an eloquent way to say it, so I'll let Jack Dawson leave you with this parting sentiment: