Last weekend, I put away all my winter clothes. Wine-colored corduroys, white cable knit sweaters, all of it folded and happily shoved into the darkest corners of my closet. Imagine my astonishment when I wake up this week to discover – SURPRISE! – the weather is total shit.
Though I had been planning to roll out a week of spring salads and cucumber mixed drinks, I decided to put those plans on hold and use this appalling weather streak as an excuse to whip up a few last comfort food meals.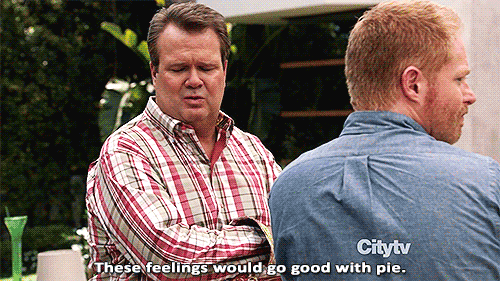 I've been workshopping this recipe for almost a year now, and I feel like it gets better every time I make it. The kale is a great addition to your traditional pot pie, and because it's a one-pot ordeal, clean up is SO easy. My one tip is to prep all the ingredients beforehand. I've tried peeling/chopping/mincing the ingredients as I go along, but it's too hectic. Now, hurry up and make this before the humid DC summer swoops in and makes us all want to die.
*     *     *
Cozy Skillet Pot Pie
Prep Time: 20 min | Cook Time: 1 hour 30 min | Serves 4
Adapted from Bev Cooks recipe
Ingredients
4 TBSP olive oil
1 medium onion, sliced
6 cloves of garlic, finely chopped
1 TBSP fresh sage, chopped
1 ½ cups kale, shredded
¼ cup flour
1 cup frozen peas
2 cups chopped carrots (~8-10 medium carrots)
1 ½ cups shredded chicken (either from a rotisserie chicken or your own whole roasted chicken)
Frozen pie shell (not the roll-out kind – the kind that comes with a foil base)
2 cups chicken broth
Salt and pepper
Directions
Preheat oven to 425°F.
Do all your chopping, shredding and mincing beforehand.
Heat the oil in an 8-inch cast-iron skillet over medium heat. Add the onions and cook until for 8 minutes, stirring frequently.
Add the garlic and sage and stir for about 2 minutes.
Add the kale and sauté for 5 minutes, until wilted.
Add the flour and continue to sauté another 2 minutes, until the kale is coated. Season with a few good twists of salt and pepper.
Add the broth in ½ cup increments, stirring with each addition until slightly thickened. If possible, replace some of the broth with the juices from the rotisserie chicken – makes it so much better!
Stir in carrots and peas. Continue stirring for another 2 minutes.
Stir in shredded chicken. Allow to simmer for 5 minutes, until it's nice and thick. Season with salt and pepper again, if needed. I find that I usually don't need much.
Remove pie shell from the foil and place right side up on top of the skillet. Yes – the bottom IS supposed to touch the contents of the skillet. It should sit right on top.
Place in oven and cook at 425°F for 15 minutes. Reduce heat to 375°F and cook another 15 minutes.
Remove from the oven and let rest 20 minutes before cutting into the pie. This is important. I know it can be tempting to run the knife straight through the crust to dig in, but it's SO important to let the pie sit and allow the juices to be absorbed.