There's never a shortage of things to do in our nation's capital, and no time is that more true than on New Year's Eve. To help you decide where you should go next Sunday night, we've compiled a list of a few of our favorite NYE parties. Some are free. Some are very much not free. Some have food. Some don't. But the one thing they all have in common is you are almost certainly guaranteed to have a good time no matter which you choose. Here, in no particular order, are our picks for New Year's Eve:
1. Cocktails & Dreams, 80s New Year at Lost & Found
Ring in 2018 at Lost & Found with a Cocktails & Dreams themed 80s party. With a cocktail list that would impress even Doug Coughlin, tiki drinks in the alley bar that will transport you to Kokomo, and 80s karaoke from 9pm til 1am. No cover.
2. ANXO NYE 2018
$50 all you can drink in the upstairs dining room from 10pm to close. Free TXOTX of Anxo's Sidra Natural on the patio at midnight. Special NYE cocktails and food specials. Go for dinner and stick around for the party. (Note: this is at the Florida Ave. location)
Tickets: https://www.eventbrite.com/e/anxo-nye-2018-tickets-41019477361
3.  Sneakers and Sweatsuits New Year's Eve at the Pitch
$80 ticket gets you a premium open bar from 9pm – 1am, appetizer buffet from 9pm – 11:30pm, champagne toast, party favors, "fantastic" door prizes, and live music by DJ Reggie Nell. Also, hello it's sneakers and sweatsuits themed so you aren't stuck in a sequined outfit that barely fit on NYE 2015. Break out those old velour track suits ladies.
Tickets: https://www.eventbrite.com/e/sneakers-sweatsuits-nye-tickets-40062715661?aff=efbeventtix
4. Masquerade New Year's at Cafe Saint-Ex
There's no cover to enjoy this NYE fete. Saint-Ex will have New Orleans-inspired food and drink specials and a soundtrack by DJ Sharkey. *Masks are greatly encouraged!*
5. NYE at Mission
For $130 you will get a premium open bar, an appetizer and dessert buffet, party favors, and a champagne toast at midnight. Here's hoping there's a queso fountain too.
Tickets: https://www.eventbrite.com/e/new-years-eve-2018-at-mission-tickets-39860867929
6. Momofuku New Year's Eve Dinner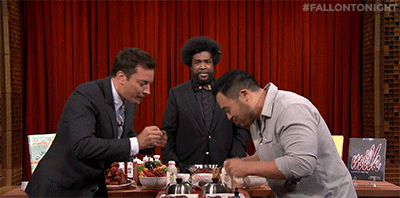 If you're uninterested in champagne toasts and crowded bars, Momofuku is serving up a 5 course NYE dinner for $80 which includes prime rib and kushi oysters.
Reservations: https://ccdc.momofuku.com/new-years-eve/
7. Ivy City Smokehouse NYE Masquerade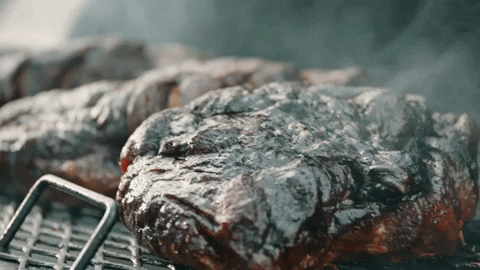 For $55, Ivy City will be serving up a masquerade-themed open bar and buffet from 10am-2pm.
Tickets: https://www.eventbrite.com/e/ivy-city-new-years-masquerade-ft-black-alley-live-tickets-40846912214?aff=efbeventtix
8. New Year's Celebration at Quarter+Glory
Quarter+Glory will be opening their doors at 8 with a DJ, good vibes, and good friends. Cover is only $20 and includes a complimentary toast at midnight.
9. New Year's Eve and New Year's Day at Brookland's Finest
Brookland's Finest will be serving up a three course NYE dinner for two for $75. The menu will include a shrimp cocktail, surf and turf with ribeye and a whole Maine lobster, with a red velvet cake dessert. And on New Year's Day they will be serving up some brunch specials including a 10 ounce prime rib with eggs, a classic Taylor pork roll, and others along with an impressive bloody mary bar..
10. NYE at Rye Street Tavern in Baltimore
Visiting family in Baltimore? Or just fancy a trip up north? Rye Street Tavern has a pretty unique NYE event. For $135 guests will have access starting at 7pm to passed canapes, a chef's market table, a carving station, a raw bar, a dessert room, beer, wine, and a signature cocktail, along with a champagne toast at midnight. There will be a DJ and live music by The Keynotes.
Tickets available on their website under "Book New Years Eve": http://ryestreettavern.com/
11. Cicchetti Tasting Menu and Late Night Libations at Urbana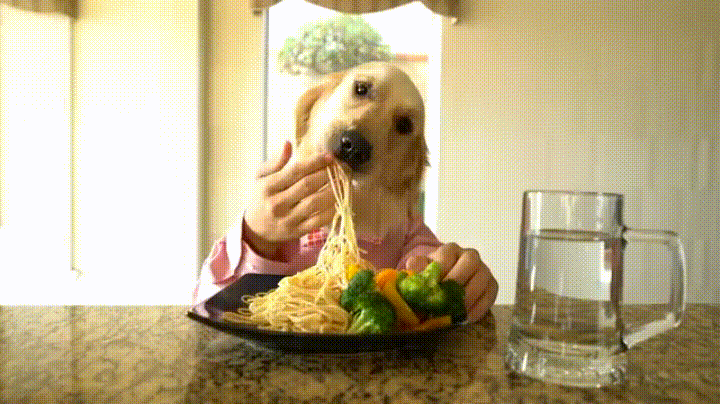 Urbana is opening its special 8 course Cicchetti tasting menu, usually only available on Saturday nights, on New Year's Eve. Guests who partake in the Cichetti dinner will be granted free access to Late Night Libations, which includes beer, wine, or mixed cocktails from 10am-2am. For those who don't snag a Cichetti reservation in time, tickets are available for $50.
Tickets: https://www.eventbrite.com/e/new-years-eve-at-urbana-tickets-41151104060?aff=erelpanelorg
12. Bluejacket New Year's Eve Bash
For $105 guests will have access to an open bar with all of Bluejacket's drafts and casks, select wines and spirits, and a midnight champagne toast. There will also be passed bitse from Chef Marcelle Afram and live music and DJ sets throughout the night.
Tickets: https://www.eventbrite.com/e/bluejackets-2017-new-years-eve-bash-tickets-39565696062?aff=es2
13. Whiskey Charlie at the Wharf's Inaugural NYE Party
Each $150 tickets includes open bar featuring all beers and select wines, premium rail liquors, and select specialty cocktails; a Perrier Jouet champagne toast paired with Sweet Lobby macarons; assorted appetizers including crab cake sliders, beef sliders, tuna tartare, meatballs, cheese empanadas, and more. The ticket also entitles guest to a 40% discounted rate at the Canopy hotel for that evening, and of course panoramic views of the river and fireworks.
Tickets: https://www.eventbrite.com/e/new-years-eve-whiskey-charlie-the-wharf-tickets-41149075994?aff=efbeventtix
14. Midland's NYE Party
Starting at 7pm, each $55 ticket will get guests access to Midlands' dinner buffet, bottomless prosecco, lots of NYE swag, and a midnight champagne toast. Prices go up to $65 after Dec. 23.
Tickets: https://www.eventbrite.com/e/the-midlands-new-years-eve-party-tickets-40790335993?aff=efbeventtix
15. Prix-Fixe New Year's Eve at BRABO
The five course, $95 prix-fixe menu includes a foie gras terrine, casarecce pasta with veal sweetbreads ragout, meyer lemon and lobster risotto, Rohan duck breast, and a Guanaja chocolate tart with toasted marshmallow ice cream. Reservations can be made on their website.
16. NYE at TapaBar
Guests have the option of a 4 course prix-fixe dinner at 6pm for $59.18, or a 5 course pre-fixe dinner at 9pm for $79.18. Those who choose the 9pm option will have a complimentary glass of cava, noisemakers, hats, and plenty of good cheer. Reservations can be made via OpenTable.
17. 1970s Disco Party to 1980s "I Wear My Sunglasses at Brunch" at Radiator 
This is a particularly aggressive option, and we love it. Starting at 6pm on New Year's Eve, guests will have food and drink specials, with a complimentary champagne toast at midnight, all surrounding a 1970s disco them. Radiator will then stay open until 3am where everyone can continue to get their groove on. Then, on New Year's Day, beginning at 8am, Radiator will morph into the 1980s and kick off their new brunch series: "I Wear My Sunglasses at Brunch." Sunglasses will be made available to any guest upon request. Reservations for both days may be made on their website.
18. New Year's Eve at the Anthem
For those of you in search of more music and fewer themed parties, head over to the Anthem at the Wharf where they're hosting a three band event featuring Thievery Corporation, Gogo Bordello, and Trouble Funk, all with a complimentary champagne toast at midnight.
Tickets: https://www.ticketfly.com/purchase/event/1557547
19. SAX Winter Wonderland NYE Party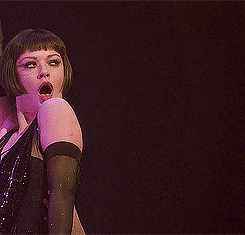 DC's premiere (only?) cabaret will be serving up live cirque entertainment throughout the evening, free drink tickets with every drink purchase, party favors, Moet champagne toast at midnight, a live DJ, and a live stream of the NYE countdown from Times Square. For those so inclined, bottle service will be available for VIP tables.
Tickets: https://www.eventbrite.com/e/sax-winter-wonderland-new-years-eve-party-tickets-39589681804?aff=ebdsorderfblightbox
20. 1975 to One at Cotton and Reed Distillery 
Another disco-inspired party. $175 gets you bottomless drinks, bites, and disco jams. Come in your most impressive disco costume, because winner of the best-dressed contest wins $500.
Tickets: https://www.eventbrite.com/e/1975-to-one-new-years-eve-at-cotton-reed-tickets-41084691418
21. Sayonara 2017! Mukaezake 2018! at Zentan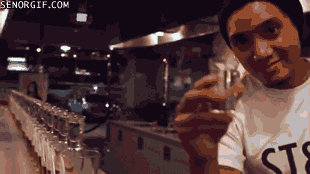 Zentan will be saying sayonara to 2017 with a sparkling sake bar and a la carte food specials. In addition to Zentan's regular menu, there will be special NYE appetizers including steamed lobster tail and braised wagyu oxtail among others. On New Year's Day, Zentan is hosting Mukaesake! (Japanese for "keep the party going"). Japanese comfort foods will be on the menu and will be accompanied by special house made kimchi bloody mary's. Reservations can be made on their website.
22. Sauf Haus NYE Snow Ball
$25 will get you 2 drink tickets. a champagne toast, DJ, and live music and performers. Apparently cocktail attire and masquerades are "a must."
Tickets: https://tickets.saufhausdc.com/
23. NYE at Flash
Another particularly aggressive option. For $50 (or $60 if you purchase later) you'll get access to 26 hours of nonstop music. Doors open at 10pm on New Year's Eve and don't close again until 11:59pm on New Year's Day. You'll get a complimentary champagne toast, and access to a 9am (!!!) happy hour on January 1. Godspeed.
Tickets: https://www.residentadvisor.net/events/1043129
24. Fortune Teller's Brunch at Dirty Habit
For the second year in a row, Dirty Habit will host its fortune teller's brunch featuring free tarot card and lipsology readings. Guests will also receive a fortune cookie, each containing a prize ranging from a complimentary glass of champagne to a $100 gift card. Brunch goes from 8am til 230pm, and reservations can be made on their website.
25. NYE at Slate Wine Bar
$80 will get you bottomless hors d'oeuvres and "free flowing champagne and drinks."
Tickets: https://www.opentable.com/r/slate-wine-bar-reservations-washington?restref=102298
Whatever you decide to do – have fun, be safe, make wise choices. Or don't. Catch y'all in the new year!