Its officially sweater weather! Below I have four must have sweaters for fall in D.C. These sweaters can function for work or play. Now all that's left is for you to go and drink some pumpkin spice lattes in your new sweater!
Sweaters for the Ladies
I own this sweater in ABOUT 50 different colors… I wish I were joking. It's a great layering piece that you can wear to work layered with a button down or under a jacket. I wear mine on the weekends as well with jeans and a fun pair of flats.
Pro Tip: If you find you love them as much as I do, take advantage of when they are on sale. I usually buy two of the same color. I have a black for work and for play.
I'm a firm believer that a classic piece is always the best purchase. You can take this to a trendy level with a simple change of accessories. Again, layering this with a blouse underneath is a great, relaxed look for those mornings when its chilly and you don't quite know what to wear. For the weekend, add a pair of coated jeans or leather leggings and a low de-orsay heel and you've got a flirty, comfortable outfit for a date or drinks out with friends.
Piperlime Pim and Larkin
Looking through Piperlime has become an addiction of mine and this blog seems to be the enabler… there could be worse things to be addicted too. Anyway, this sweater is a great piece that incorporates the trend of the windowpane pattern. This is a great way to incorporate some whimsy into your everyday office wear. Pair this with a colored pant or keep it in the same color family and throw on a fun pair of flats for a pop of color.
Piperlime BB Dakota
We've all been there. It's Friday morning and you took happy hour about four more hours too long. Sadly, you still have to get yourself into work and look like you had a full nights rest. A sweater jacket is a great way to feel comfortable yet pulled together while not appearing to hide a way in a Snuggie (don't judge, we all have our vices).
Pair this with a pair of cropped black pants and a light blouse, the tie in the back helps to accentuate your waist or leave it undone to highlight the collar. This jacket can also be great for a weekend trip to the winery with a great pair of boots and fun cross body (you need two hands for maximum winery enjoyment)
For the Guys
J.Crew Rustic Merino Elbow-Patch
I'm a sucker for elbow patches on men or women's sweaters. It gives it an unexpected personal touch that helps to make it a little more lived in. Layering this for a more casual day at the office with a button up would make this a great fall piece. On the weekends, throw on your Barbour jacket or vest and you're ready for the weekend.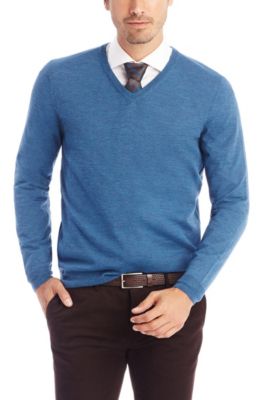 You can't go wrong with a classic V-neck sweater for men. Again, take this to the office with a patterned button up and throw on a tie to make it more formal. For the weekend, you can put on a more casual button up or a tee for a more laid back look for beers and football with the guys.
Ralph Lauren Merino Wool Half Zip Sweater
The half zip sweater is the more rebellious brother of the V-neck (if they were to be related). I like the sweater for more after hour's activities. Great layered with a Henley, t-shirt or a button up. If you're going to meet your significant others family, I'd say this is a great choice, you look pulled together but not too stuffy.
Pro tip: Don't wear a bandana like he does in the photo.
Brooks BrothersCotton Crewneck Sweater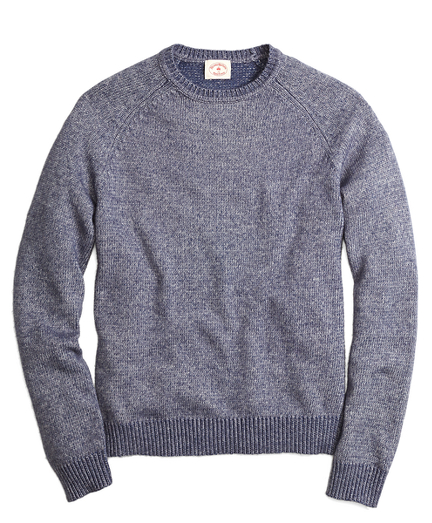 I love this sweater because it's a great thing to have in your back pocket for a weekend. It looks a lot like sweatshirt but can be styled with some great layers for a fancier day out to brunch or casual day of running errands. It's always great to have a transitional sweater that you can pull right off the hanger and throw on with a pair of jeans.
Make sure to follow me on Instagram, Twitter and Pintrest for more looks!