It's time to elevate your happy hour game.
Feeling a little fancy, but don't want to spend an arm and a leg? Your busy work day is over and it's time to treat yo' self at the Ritz Carlton's Westend Bistro.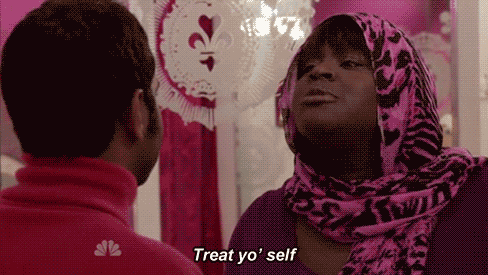 You may be wondering, "Isn't the Ritz's bar only for fancy older Florida couples who exclusively travel to D.C. to check out the latest museum opening?"
Wrong.
The Ritz's happy hour is for you because you're fancy and you deserve it. Side note: It's also surprisingly affordable and the food is incredibly delicious.
The Patio
If you've been sitting in a windowless office all day the Westend Bistro's patio is perfect. Enjoy the plethora of pretty plants and breathe in that fresh city air.

Chef Alvin Dela Cruz wants it to be about the experience. He seamlessly blends international dishes and regional flare by fusing local ingredients with a global mindset.
"I create these seasonal dishes to be enjoyed outdoors and shared with friends," said Dela Cruz. "At Westend Bistro, we have created an oasis for our guests to create memories over delicious food and beverages, and we're excited to offer The Garden as that place."
The drinks
The cocktail of the day depends on bartender, Ishmael's, mood. Sure, you can deviate from the incredibly reasonable $10 Signature Westend Cocktail and order your classic, but you've been making decisions all day at work. Let Ishmael take your tastebuds into his experienced bar-keep hands.
If you're not sure you're ready to tackle the eclectic sounding Orange Crush Cocktail, just know you can't go wrong. You should expect high quality ingredients because, well, you're at the Ritz. As Ishmael slid me my first beverage, he proclaimed "no plastic bottle aristocrat vodka here!"
Hungry for more? Grab some popcorn and read on!
The food
Let Chef Alvin Dela Cruz take it from here. The Chef brings fun, summery, refreshing cuisines together in a series of craveable creations. He incorporates a splash of Mediterranean, a hint of Californian, and a dash of local fare. The In-N-Out inspired Animal Fries are, as West Coasters say, "hella fantastic."
Next, grab some Maryland Blue Crab Cake Hushpuppies if you're yearning for a taste of the beach. These pups are perfectly crisp on the outside and hearty on the inside. They are perched atop a creamy sauce and are endlessly instagramable.
Hold the duck up! The Honey Glazed Duck Wings are an absolute must. They're beautifully garnished and even more beautifully seasoned. There's nothing like devouring some wings after a day of reporting on the West Wing.
BONUS: Have dinner at the chef's table and you can snag this insanely delicious appetizer. The bread is warm and gooey and the yogurt, cucumber, radish concoction will leave you licking the plate

What are you waiting for? You have your next happy hour idea on a silver platter.
Happy hour is Tuesday-Friday, 5-7pm
*Available at the bar & seating is first come first serve*